Why a Fluid Bamba specialist fishing kayak?
This website is best viewed on your mobile device with "Desktop View" settings.
Email for prices.  We beat any quoted price!! Delivery included in SA.
Included:     Free courier delivery in SA / Buoyancy kit fitted & certified / 1 X free Fluid stainless steel drinking bottle /  Receive detailed instructions with photos on how to make your own anchor AND trolley/cart for your Bamba Kayak.
Excluded:       Kayak seat with back rest  /  Paddle
See the Fluid "Angler" models :  –  Buddy Angler      Chumani Angler      Synergy Angler
Plastic Kayaks VS Fibre Glass Kayaks
The Bamba competes in the market with fishing kayaks such as the Ocean Kayak Trident 13 Angler and the Tarpon 140 from Wilderness Systems, only with more features such as live bait holders and the large center hatch.  Because of these extra features and excess storage space, the Bamba also makes for a great touring kayak.  As the Bamba is made in SA it costs less than the imported models without compromising on quality.
The Fluid "Bamba" is a purpose made fishing kayak, designed for off-shore fishing  and will take on any stretch of inland water with ease.  The kayak is made from very durable plastic (Gen 2 Polyethylene) and a key feature of the Bamba is the large forward center hatch, much like the storage hatch on a fiberglass ski.  In here you can keep all your gear, tackle and fully rigged rods up to 1.73 meters long, safe and dry inside the hull.
The rear tank-well of the Fluid Bamba" has a large load bay to fit a cooler box, live-bait bucket, dive tank or plastic crate. A custom made fish-bag with zipper is available to store fish and extra gear in the rear tank-well.  Weight distribution on a kayak is vital and adding more weight forward of the paddler is dangerous when returning to shore through the surf zone.  Added weight on the rear keeps your kayak going straight as a pin through the surf zone and your chances of tipping and loosing gear is greatly reduced.
The deck lay-out of the Bamba is fishing friendly and caters for the fitting of extra gadgets and deck hardware within easy reach of the angler. The Fluid Bamba is excellent in the surf zone and a stand out feature is the ability to stay up-right when riding a wave or "foamy".
The Bamba hull was designed to cope with surf and the large rocker makes it one of the most stable kayaks on the water today, even for the over sized folk.  The speed / length / stability ratio of the Bamba is excellent and puts it in the top 20% with speed over water. With a range of user friendly features, the Bamba has set new bench-marks for a safe and fun day on the water.  All Fluid products carry a  3 year warranty.
Since the Fluid Bamba fishing kayak hit the water it has become a favorite fishing vessel for inland and off-shore fishing. It is practical, easy to use for big & small and comfy enough to sit in all day. The Fluid Bamba is fitted with all the rigging required for fishing and can take on any stretch of open water. It can also be used for bass, trout or river fishing, getting you to those never before reached places. As it is made from plastic, it handles rocks and hard objects with ease so no worries about patching or fixing cracks and holes and spoiling your day on the water. It further allows for the easy fitting of extra deck fittings without causing cracks or weak spots and the warranty stays in place! The graphics are molded into the surface and will look good for years to come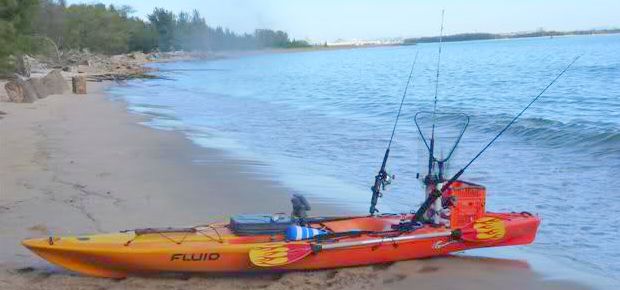 The cock-pit deck has ample room for storing a gaff, net, game fish baton, tackle and lures within easy  reach. The craft has a load weight of 180 kgs and can handle the heavier and taller paddler plus  gear with ease. Because of the low profile and low centre of gravity design, the Fluid Bamba is not  much affected by choppy seas and winds and gives the paddler a comfy and very stable ride. Although designed with the serious fisherman in mind, the Fluid Bamba can be used for  touring, camping or getting great shots of game on the river banks.  The Bamba was designed to perform without a rudder and is supplied standard without it.  The hull has tracking grooves build in and a pronounced rear keel to stop "wind cocking".
Bamba user Guide Out Of  5
5/5  OFF-SHORE FISHING
5/5  INLAND & BAY FISHING
5/5  STABILITY
5/5  CARRYING CAPACITY
5/5  INLAND FISHING
5/5  ADVENTURE
4/5  TOURING
4/5  PLAY
4/5  SURFING
3/5  WHITE WATER
Standard Features:
Excellent stability to speed ratio
Excellent surf launching and return capability
Excellent straight-line tracking without a rudder
Great adventure and touring capabilities
High volume storage & practical deck lay-out
Central fish/touring / storage hatch – 1 850mm x 280mm width x 250mm deep
Hatch opening – 420mm x 280mm wide
In-hull storage for rigged rods up to 1.95 meters
Hatches for in-hull storage of tackle and gear
2 Rear hatches  can be flooded via scuppers for small live bait storage
2 Rear rod holders and 1 forward bait-up rod holder
Easy to reach rod holders
Paddle Park and molded-in transducer housing
6mm screw-in brass threaded secure points for DIY accessories
Lure & knife stowage either side of the cockpit
SAMSA compliant with35% buoyancy kit fitted –  certificate supplied with boat
Now with a raised front deck for a dryer ride
Optional Extras:
Rudder & steering system
Canvas Seats
Heavy Duty Dry-Bags
Jacket-Type PFD's
Fluid Fishing Kayak Specifications:
Carrying Capacity – 220kg safety rating
Length – 4250mm
Width – 800mm
Weight – 34 kg fitted
Construction – Plastic – Gen 2 Polyethylene with UV protector
Warranty – 3 year limited
Color Options:        Yellow  –  Orange  –   Blue   –  Light Green  –  Khaki/Camo
Do you really need a rudder?
Click on the video to the left.  Rudders are essentially to prevent weather cocking, not to steer the kayak!! The Game Fishing folks will know all too well how many fish are lost due to a rudder snagging your lines.
However, for the "die hard rudder folk", the stern is equipped with molded-in brass mountings to fit a rudder at any stage.  It can be factory fitted or installed DIY after- market.  It is a fairly simple screw-on installation with detailed fitting instructions.