The TRIDENT – Ocean-Going And Sea Fishing Kayak
Large in-hull storage hatch for fishing rods and gear.  Through-hull option to fit a dedicated electric kayak motor/drive. Can also be used to easily fit a Bass or small petrol motor.
The Trident fishing specialist kayak must now be the ultimate plastic kayak for catching saltwater fish. Gone are the days of the fibreglass Skis leading the pack out on the ocean!  Covering great distances at speed with the Trident is a breeze so covering all your favourite fishing spots in the early morning before breakfast is now a reality.  Research and development go back as far as I can remember Brian Jacob talking about this kayak. Many unique features that have never been perfected with plastics before, fell into place in so many ways. The enormous forward rod/fish hatch opens up a range of options for this very comfortable and seaworthy craft.
At 510cm in length, the Trident is really fast over the water and yet provides great stability for larger or inexperienced paddlers. The Trident ocean fishing kayak has a moulded-in transducer fitment area and an 8inch dry hatch for small stuff.  Depending on where and on what waters you plan on using your Trident kayak most often, you have options of choosing either an under-stern or over-stern rudder & steering system.  You also have options to easily fit a dedicated kayak propulsion system or an electric (Bass) motor….. or even a small petrol motor in the "through-hole" design on the rear deck.  The Trident is available in plastic (polyethene) or in the lighter polypropylene construction.  A really "nice to have" in rocky areas or when you have to "hit the beach" fast in adverse weather as you are safe anywhere you go with this tough craft.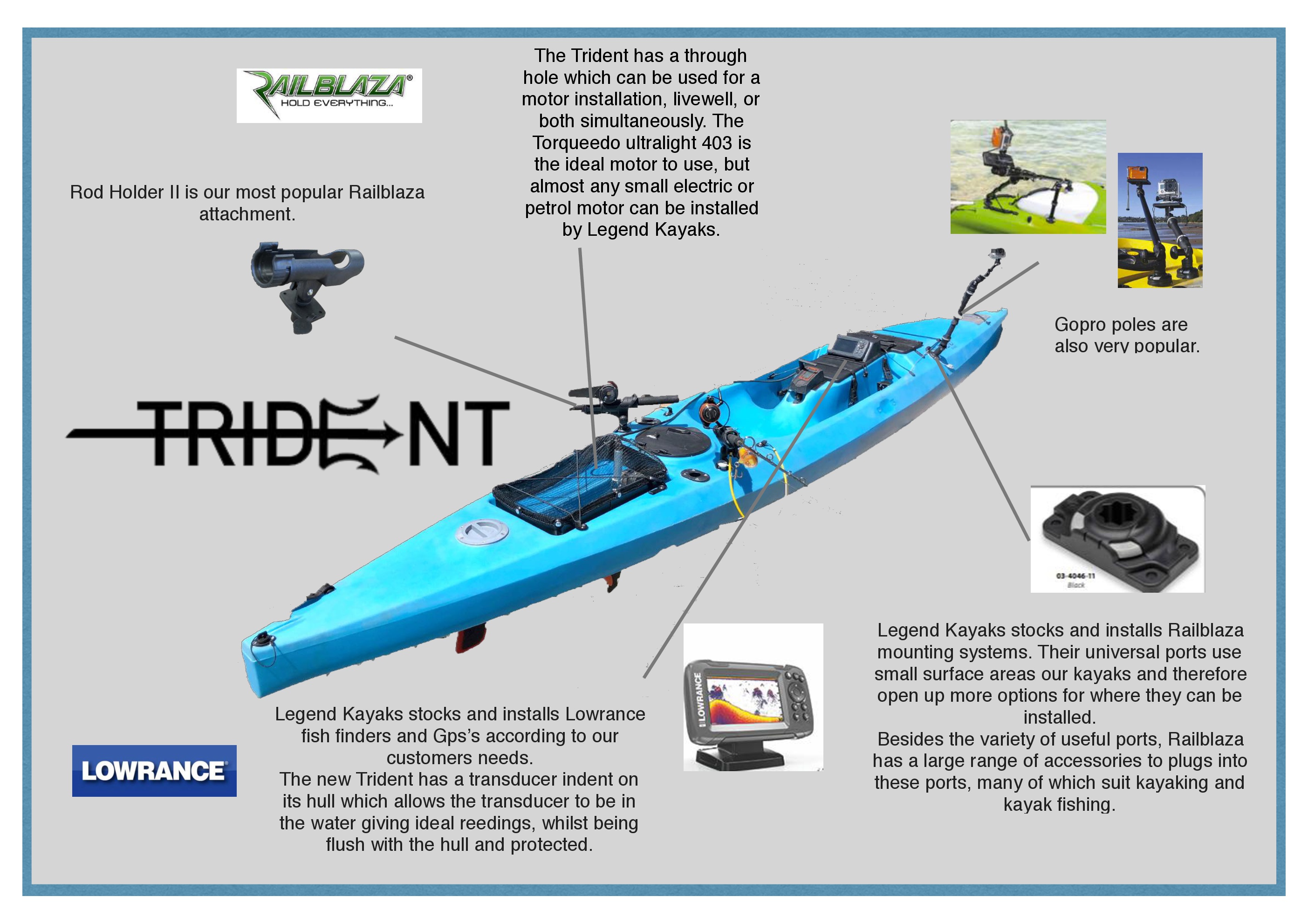 Click on the pic above to enlarge
.
.
Trident Sea Fishing Kayak Specs:
Length                      510cm
Width                        74.5cm
Weight                      31kg – Polyethylene
Weight                      27kg Polypropylene
Carrying Capacity   165kg
.
Standard Fittings:
4 x Rod holders fitted
5 x Handles fitted
Rudder & steering system fitted:
– Over stern for inland waters
– Under stern for sea fishing
Front-deck paddle park
SAMSA approved buoyancy kit installed
The TRIDENT sea fishing kayak in action during a surf launch.  Click on the "play" to watch the short video
Click THIS LINK to see a 5-minute overview video of the Trident kayak in action
TRIDENT Fishing Kayak Gallery

Click on the pictures to enlarge.