Lowrance Hook 4X  Fish-finder Only
Hook² 4x w/bullet transducer –  Colour display fish-finder only – R2,620.00.

The Lowrance® HOOK-4x is a fish-finder that offers proven features at a great value without compromising the quality anglers have come to expect from Lowrance.
The HOOK-4x combines the benefits of CHIRP Sonar and DownScan Imaging™ technology to give you a clear and complete view of the underwater environment beneath your boat. Featuring a brilliant 4-inch color display, the HOOK-4x is powered by high performance sonar with enhanced sonar sensitivity, excellent target separation and superior noise rejection, making it easier to see baitfish and gamefish targets.
.
.
.,
Key Features
Lowrance-exclusive, brilliant, high-resolution, 4-inch, colour display
CHIRP Sonar plus DownScan Imaging™ – the power of today's leading fish-finder technologies combined to provide the best possible view beneath your boat
DownScan Overlay™ technology overlays DownScan Imaging onto CHIRP Sonar
Advanced Signal Processing (ASP) reduces the need to manually adjust settings to see fish, structure and bottom detail more clearly
TrackBack™ to review recorded sonar history
View multiple CHIRP ranges from a single transducer
CHIRP sonar performance with a greater number of affordable transducers, including the Lowrance HDI Skimmer®
View multiple CHIRP sonar settings on one display
Convenient Page selector menu with quick access to all features using one-thumb operation.
Multi-Window Display lets you quickly choose from pre-set page layouts – including a three-panel view
---
.
Lowrance HOOK² 4X GPS BULLET (Fish-finder & GPS)
Hook²-4x GPS w/bullet transducer – Colour display fish-finder plus GPS  – R3,145.00.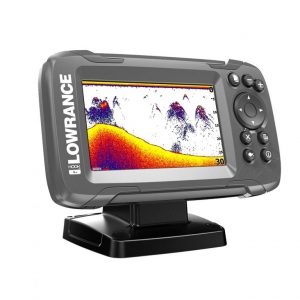 The world's easiest fish finder, HOOK2 4x GPS Bullet helps you have a more enjoyable day on the water by removing the hassle of making adjustments with a simple menu layout, easy access to key features and game-changing Lowrance® Auto-tuning sonar. You will be free to focus on fishing with Auto-tuning sonar, a new feature that actively adjusts sonar settings as fishing conditions change. You just fish and let HOOK2 do the rest.
Anglers will cover more water in less time with proven HOOK2 Bullet wide-angle, Broadband sonar, offering double the sonar coverage of most fish finders. Save waypoints, follow trails and navigate to your favourite fishing spot with the simple and accurate GPS Plotter built into the HOOK2 4x GPS Bullet display.
 4-inch SolarMAX™ Display
• Automated sonar settings
• Easy to find fish with double the sonar coverage of traditional fish-finders
• Easiest-to-use menus
• Optimised keypad with one-touch access to key features
• Proven Lowrance® wide-angle, Broadband sonar
• Simple and accurate GPS Plotter
• Easy front-dash or quick-release bracket mount98
---
.