What sets RAILBLAZA apart from its competition is the simplicity of our StarPort mount, the ease with which people fit it, and the diverse range of situations it's used in.    StarPortTM can be surface mounted and remain low profile, or the profile can be reduced even further with minimal rear intrusion. The accessory range is both stylish and practical, and will fit most budgets.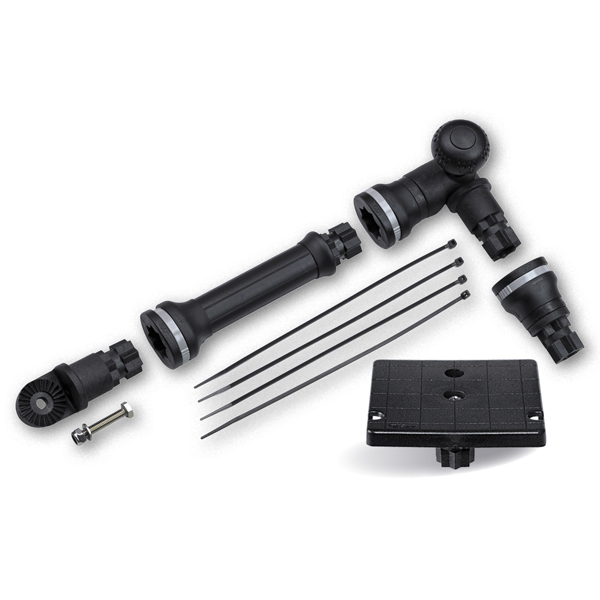 The Kayak Fish Finder & Transducer Mount Kit has been developed for kayak anglers needing an easy way to install and remove fish finders or sounders. With this kit you can install and uninstall your fishfinder or sounder in a matter of seconds, no messy adhesives or excessive drilling of fittings required. With our extensive selection of mounts, this kit can be adapted to fit any kayak or canoe.
The transducer mount kit offers a unique advantage for kayaks or canoes that do not have a transducer scupper, now the transducer will be in the water giving a 100% true reading, rather than reading through the hull.
The Rod Holder II is robust, versatile, and value for money, it will hold your rod, you choose which position.
Rotating collar helps reduce 'strike-theft'
Rear gimble lock reduces rod rotation for compatible rods; lift to slide rods through
Fully adjustable 360° around, over 90° vertical
Easy access to reel when in position
Square-tooth adjustable tilt stops rotational slipping.
Many vessels are made to suit the mount base pattern of Scotty, RAM, Cannon, Fish-On, and many others.  After many, many requests we introduced a StarPort to fit straight into this space, the StarPort HD. This is a stylish, four screw base mount, which comes with the popular RAILBLAZA locking slide, and is lower in profile than others on the market.
1 x StarPort HD
4 x M5 x 20mm machine screws, washers and nylok nuts
Rod Holders & Speargun Holders
Three diameters to choose from – 35, 50 or 75 mm (1.3, 2 or 3 in).
They install in any RAILBLAZA StarPort.
The flexible quick-release strap has two securing points for minimum and maximum diameters, providing strong retention.
The Three Axis Platform is the answer if you need real flexibility in a mount. With two swivel points and a tilt adjustment, you can easily rotate, tilt and change the view from landscape to profile.
Designed with sounders and GPS in mind, you can now view from any angle.
The Three Axis Platform can be mounted on vertical or horizontal surfaces, but really comes into its own if you have a sloping surface and need your display on a different angle.
Supplied with a 102mm x 102mm (4″x4″) platform.
The Platform Boom 150 is great for general use, and works equally well for sounder displays and other electronics as it does for cameras.
Product features include;
5 adjustment axes, the 5th axis is for "horizon correction", so if the Boom is mounted on a sloping surface you can still get the horizon level with a quick tweak of this 5th joint
All friction joints are factory set, no need to tighten any joints.
The Platform Boom 150 is a unique 3-in-1 construction, in the one package you get the adjustable platform, a fixed 150mm (6″) extender, and an adjustable extender!